DeFiant Mechanical Keyboard Set is centered on a DeFiant MMS™ Mechanical Keyboard and other expandable accessories, including wrist
rest, side stands, rear bumper, and MMS™ light bars!
The outer case is soft-shell, designed to fit the above hardware nicely and safely. The whole set is undoubtedly a good choice to accompany
you all the way!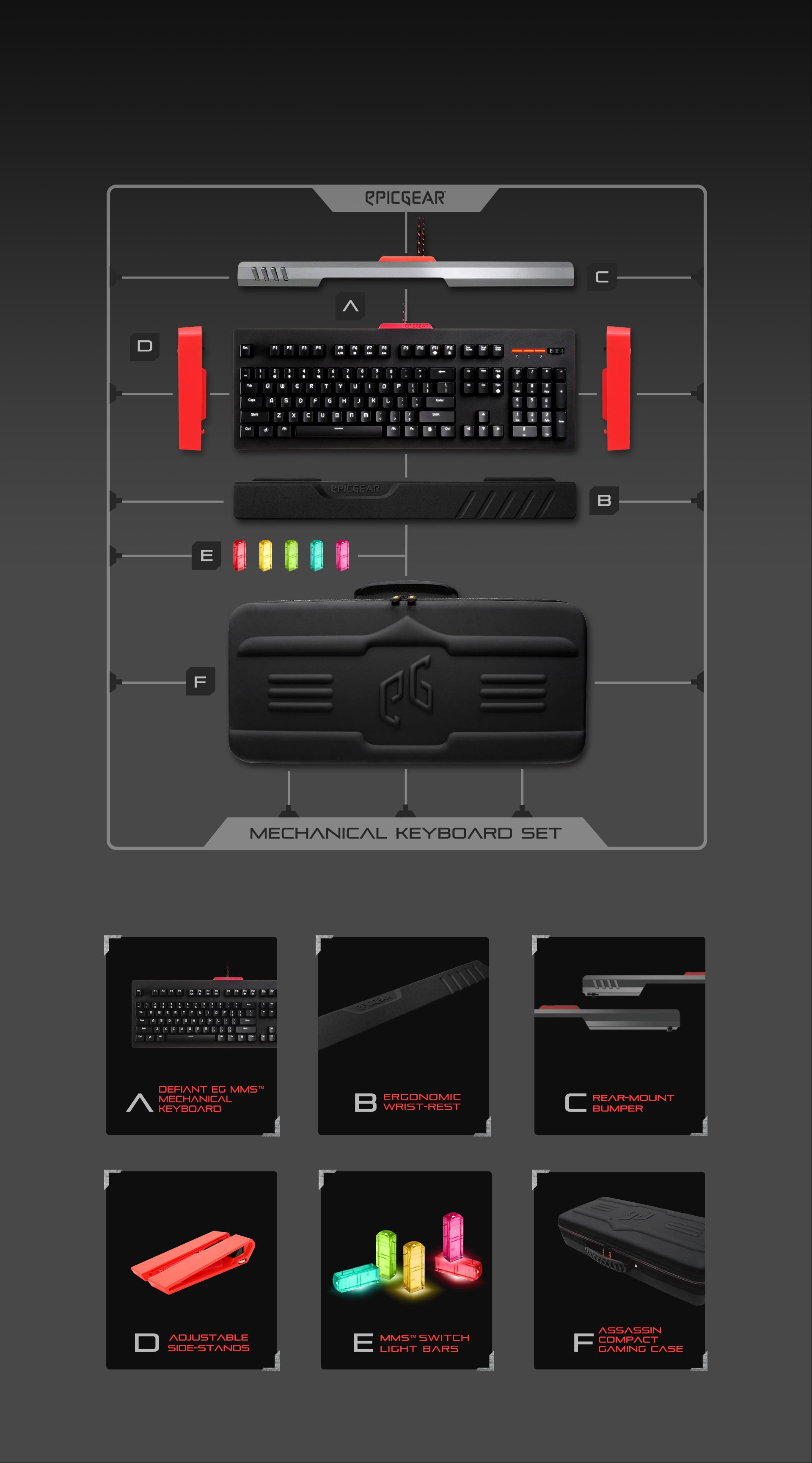 A | DEFIANT EG MMS™ Mechanical Keyboard
The DEFIANT features the revolutionary EG MMS™ - Modular-matrix Structure mechanical switches that allows for easy unplugging and plugging of switches. The Modular-matrix Structure makes mix-and-matching of EG Grey (linear), EG Orange (tactile) and EG Purple (tactile & audible click) switches on one keyboard possible. In addition, MMS™ provides an easy switch cleaning and replacement process. Expandable keyboard gaming accessories is another great feature of the DEFIANT. A wide selection of expandable add-ons designed with easy-mounting mechanisms include, macro key panel, multi-functional rear-mount bumper with Type-C port, tournament palm-rest, ergonomic wrist-rest, protective film, different keycap choices and more. Like its predecessor, the DEFIANT also features full LED backlit keys with on-the-fly per-key lighting, full programmability via dedicated GUI software and aluminum alloy built top panel.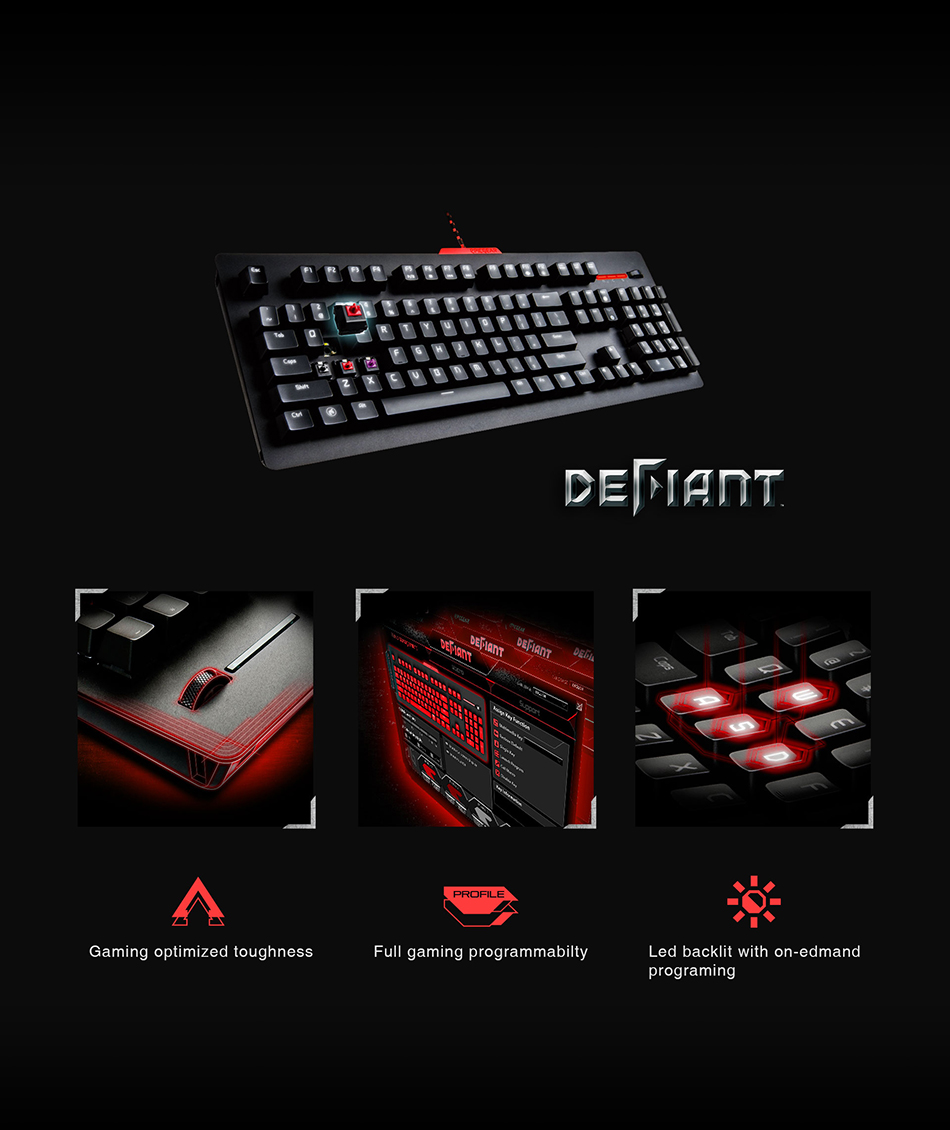 B | DEFIANT Ergonomic Wrist-Rest
The Ergonomic Wrist-rest is designed specifically for the DEFIANT keyboard, with emphasis on versatile wrist-palm support for both typing and gaming.Made with specially formulated silicone, the Ergonomic Wrist-rest is as comfortable as it is durable; while the embedded magnets provide easy and secure mounting with the DEFIANT keyboard.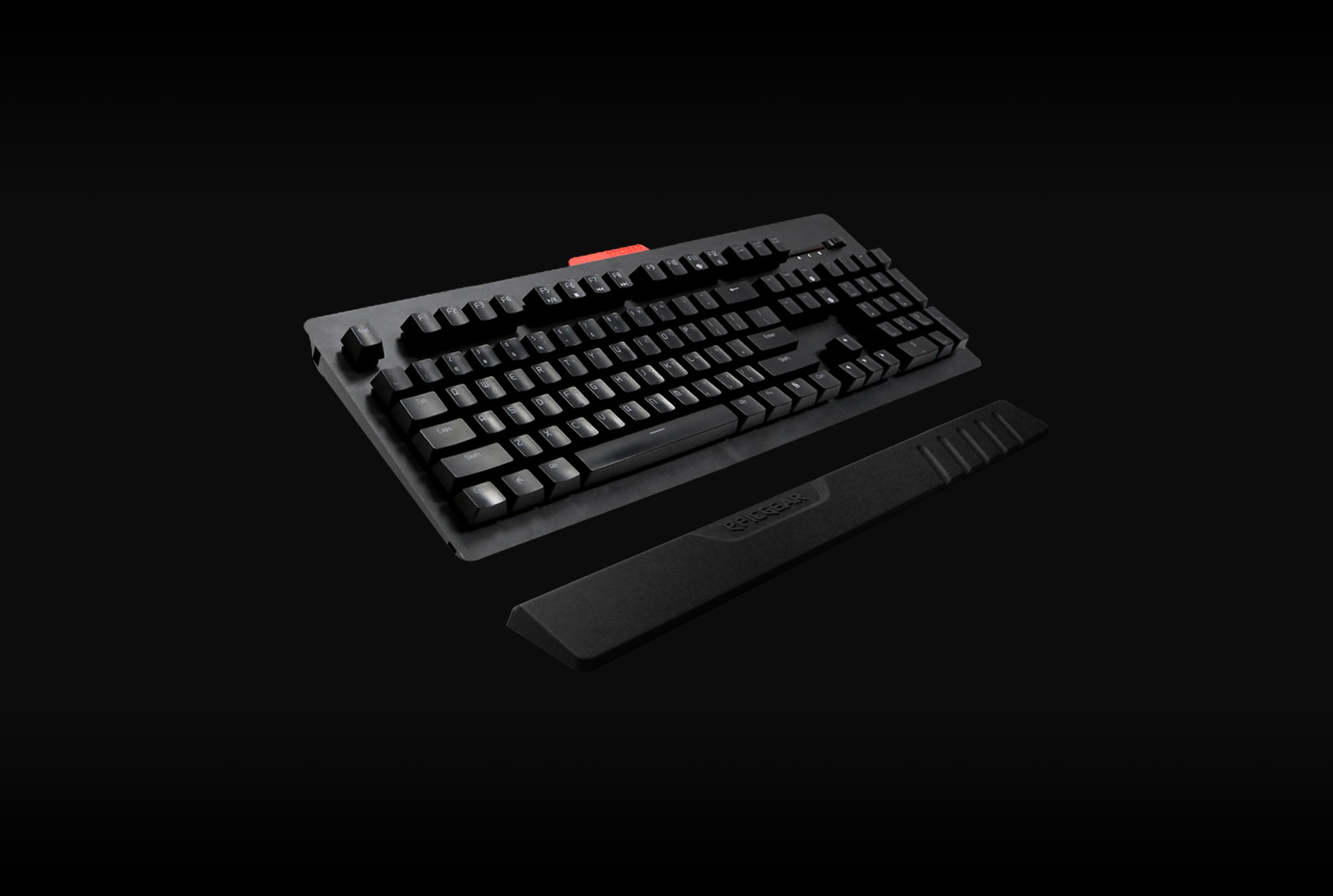 C | DEFIANT Multi-function Rear-mount Bumper
Designed for the EpicGear DEFIANT keyboard, the Multi-Function Rear-Mount Bumper can be easily mounted and dismounted via a quick lock-release switching mechanism. The detachable bumper is available in three versions, with additional ports supporting USB 2.0, USB 3.0, Type C, and Audio/Mic. On the left side, 4 multimedia buttons allow you to instantly control Media Player, creating a better gaming experience and performance.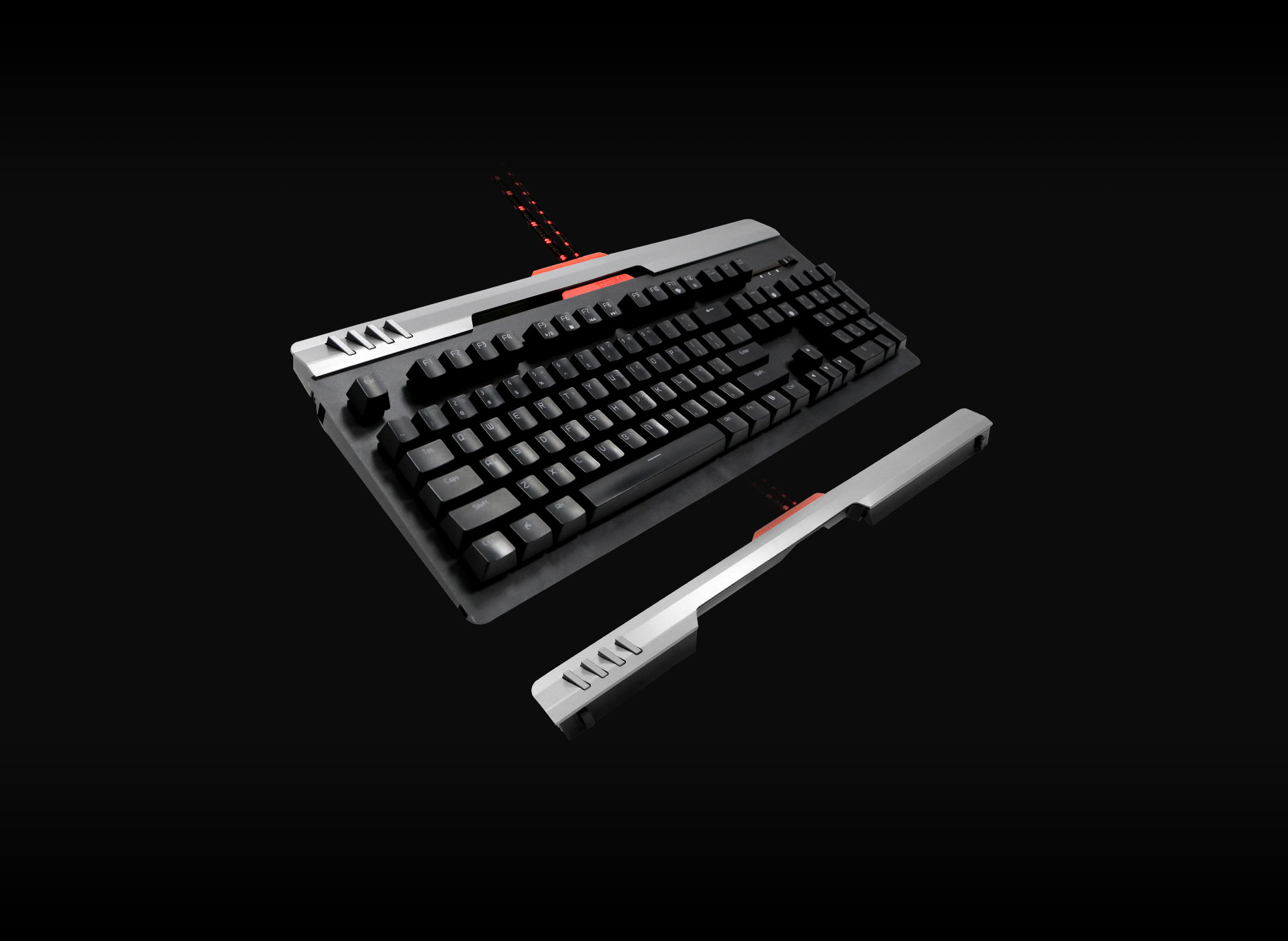 D | DEFIANT Adjustable Side Stands
Designed specifically for the DEFIANT keyboard, the Adjustable Side Stands can be easily mounted and dismounted to and from the keyboard via a quick-lock-and-release switching mechanism. Equipped with scroll wheels for linear height adjustment, the Adjustable Side Stands provide even more flexibility to the DEFIANT keyboard.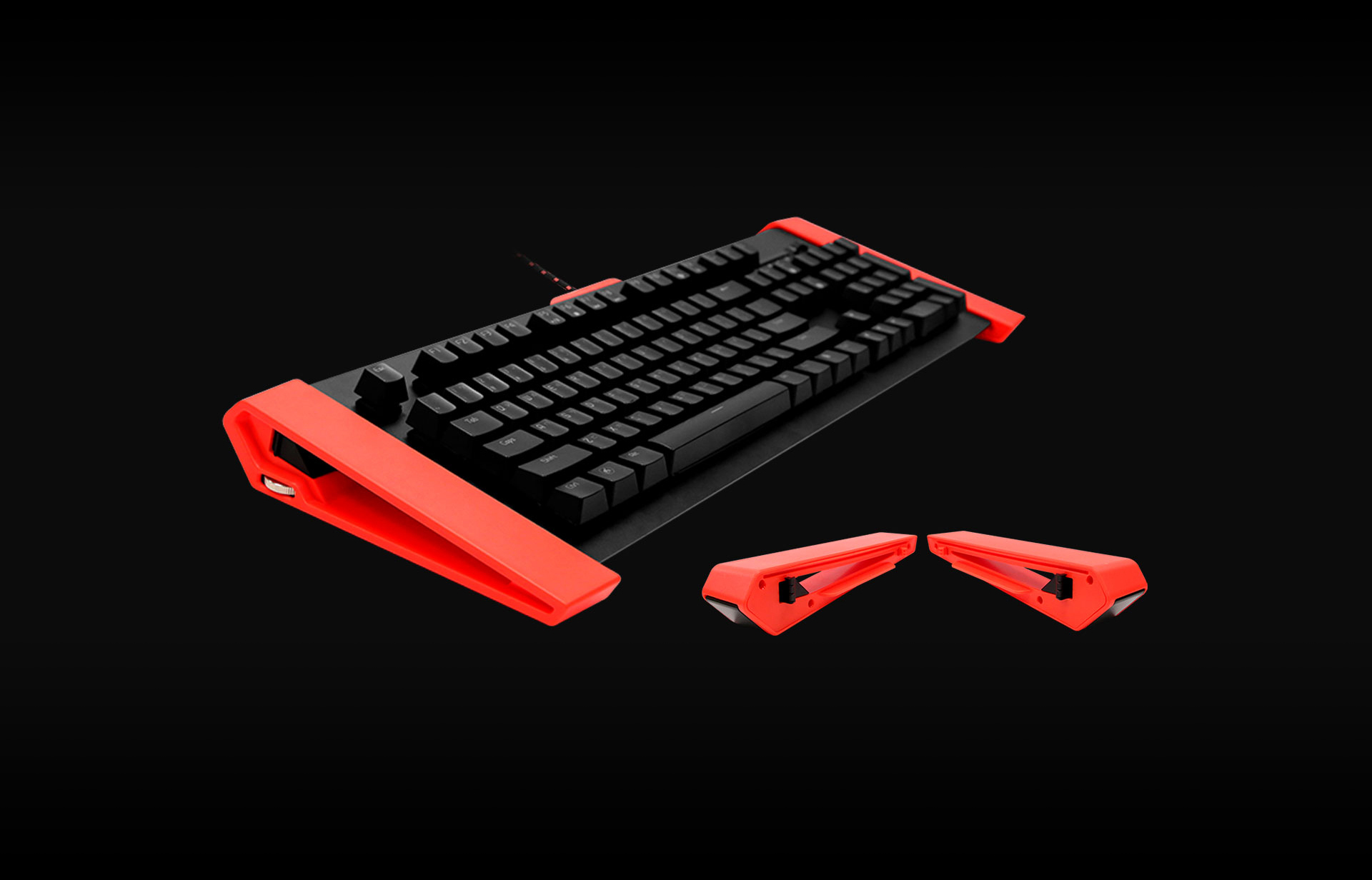 E | EG MMS™ Switch Colored Light Bars
Interchangeable colored light-bars provide additional customizability to all keyboards equipped with EG MMS™ Switches. Made of optimized PE material, the Colored Light-bars enable easy backlit customization with clearer and brighter colors.
Besides the default clear light-bar, there are red, green, yellow, blue and pink light-bards available for individual preferences.
F | ASSASSIN Compact Gaming Case
The ASSASSIN Gaming Case is a soft-shell case specifically designed to carry essential gaming gear. Optimized to transport the DEFIANT MMS™ Mechanical Gaming Keyboard and its accessories, the ASSASSIN Gaming Case is made of specially formulated lightweight synthetic with an EVA interior for superior protection of its content.